Who said cheap has to be a negative? Certainly, in many industries, paying less typically means ending up with an inferior product. However, that doesn't have to be the case when it comes to wedding catering. In fact, if you are working to a tight budget, you can still secure some amazing wedding catering solutions without having to go hungry or feeling dissatisfied with your special day.
Certainly, there is a stigma attached to "cheap" wedding ideas. For some people, they must have the most lavish and expensive wedding, otherwise they would "literally die from embarrassment". You know the type.
However, if you don't care what people think about you and you simply want to enjoy your special day with your favourite people without having to re-mortgage the house, then this is the article for you!
In this article, we are going to share some alternative wedding catering ideas for those who'd like to get the most out of their budget.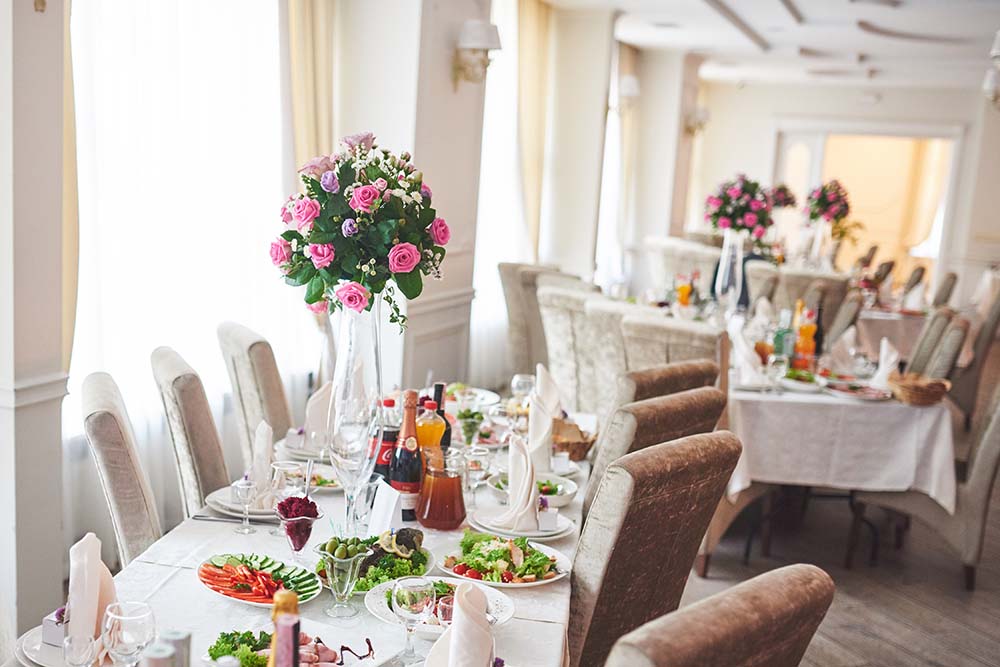 Wedding catering ideas
BYOB
One of our favourite inexpensive wedding catering ideas is to encourage your guests to bring their own booze! It might sound tacky, but it's often something that many guests actually prefer. This can save you a tonne of money. This is even more of a bonus if the venue has an expensive bar!
You can make this clear in your wedding invitation (or on your wedding website if you have one), that you won't be serving alcohol during the cocktail hour and that they are welcome to bring their own. Here are some ideas you can try:
Send out some signature cocktail recipes for guests to pre-mix and share with the other guests
Set a theme for your cocktail hour (craft beers, spirits, cocktails, whatever you like)!
Put out a shared spreadsheet asking guests to bring certain items on the list
Limited Drinks List
Alternatively, if you don't like the idea of 'BYOB', you can keep the drinks list limited. For example:
Tap a keg or two from the local brewery
Hand our champagne flutes and share some sparkling wine
Put bottles of red and white on each table for dinner (and don't forget the rose)
Pre-mix some of your favourite cocktails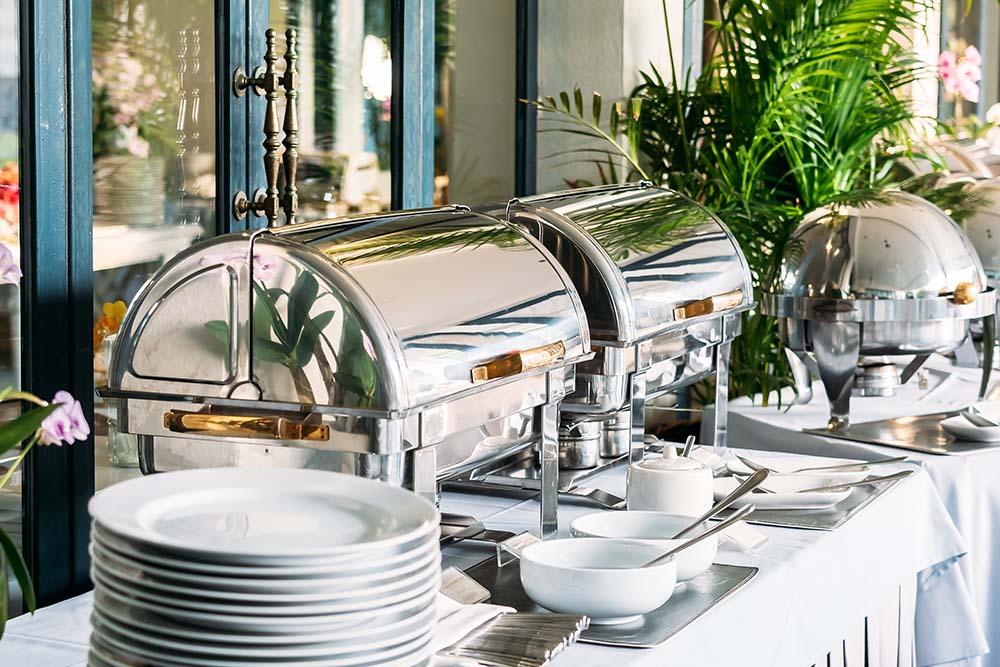 Serve Bar Snacks
Having a selection of little bar snacks on offer is a great way of tiding your guests over until dinner time. This can be a fair and efficient way of skipping the appetizers around and getting straight to the main course!

Unique and alternative wedding catering ideas
Go Vegetarian
OK, so this isn't the most popular option and you might find a few avid meat-eaters feeling let down by this, but having a strictly vegetarian menu for your wedding day is an effective way of keeping costs down.
Build Your Own
Another unique and alternative wedding catering idea is having a 'build your own food station. It's a sort of buffet-style dining experience that gets guests out of their seats and interacting with one another. It's also a cost-effective way of feeding your guests.
Tacos / burritos
Burgers/meat sandwiches
Fresh salads/cold pasta etc.

Inexpensive wedding catering ideas
Secure External Catering
A good way of keeping your costs down is writing off any venues that insist that you use their in-house catering service. This means that you can find alternative means of serving dinner, rather than choosing from a limited and expensive variety.
Order Takeout
Sure, a stack of pizza boxes isn't the most elegant of wedding catering ideas, but you can rest assured that it is super effective. For one thing, everybody loves pizza. In addition to that, it is super filling. That, and it's fun and laid back and it could suit the type of casual vibe that you are trying to create (if that is what you are going for).
Hire a 2-Hat Wedding Catering Service
You don't have to go all out with the most expensive options for wedding catering. In fact, some nice 2-hat wedding catering can afford you some quality catering at competitive prices.
Cheap wedding catering ideas
Stick to a Basic Buffet
As far as cheap wedding catering ideas go, you can't get much better than a simple buffet style. This allows your guests to enjoy a nice variety of food, whilst reducing waste. When you have a sit-down meal, you have to consider the fact that many people have different appetites. Those with smaller stomachs will end up leaving a lot of their food. Those with larger appetites might feel unsatisfied. When you roll with a buffet, your guests can fill their boots!
Skip Wine with Dinner
You are not obliged to supply wine for dinner if you can't afford to. In fact, if you skip the bottles of wine on each table and simply serve a glass of sparkling wine each (for the toast) with some jugs of water, you'll be able to save a lot of money.
Conclusion
The best wedding caterers don't always have to be the most expensive. That, and many of them will be able to work with your budget, offering a variety of different wedding catering ideas for you. In any case, whatever you decide, we wish you an incredible day and many happy years ahead!