When you are planning your wedding there are so many things to consider, and you want to be perfect. From the dress to the venue and the question of a band or DJ, it can be quite overwhelming, but one area that shouldn't be is the food. Deciding on the right food to serve at your wedding can be great fun with the right ideas, help, and planning, so here we will get you started with a few tips for the easiest, best, and most fun options available.
What foods are good for weddings?
One of the best ways to get started thinking about your menu is to consider the foods that you particularly enjoy, and would like to be served at a wedding. It is essential to provide a mix of foods to cater to different dietary requirements, avoid any potential issues with over and undercooking wherever possible, and bear in mind cooking and serving times. If you are serving brunch you may not want too many heavy dishes, and different options like high tea, canapes, a buffet, or a sit-down dinner would need food to suit each in turn. 
In general, you will want one or more meat options, one or more fish, and one vegetarian and vegan option, with more depending on your guests. Roasted vegetables are tastier than steamed ones and can make up or complement some delicious dishes. Sea bass makes a wonderful alternative to salmon which can be a little overdone at weddings, and you can't go far wrong with braised meat dishes. They will last without getting ruined and are safe from undercooking, while also being a tried and tested crowd pleaser.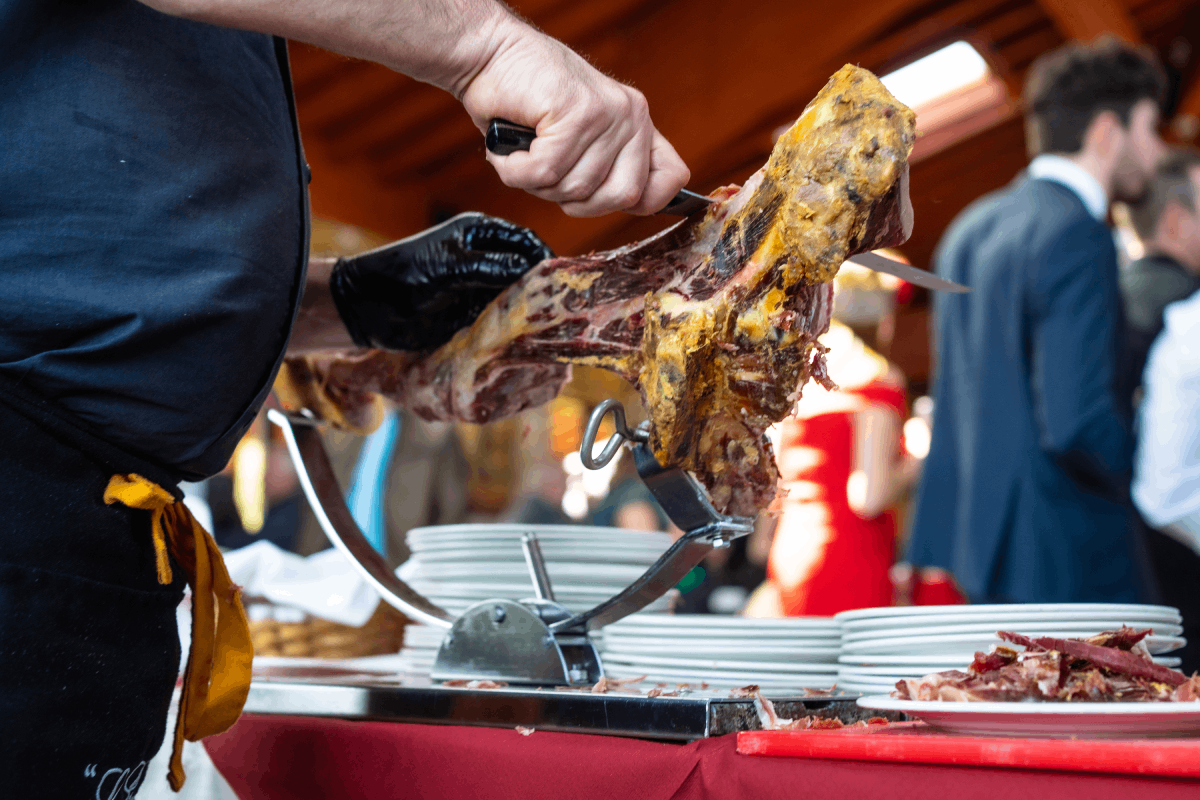 Whether you are looking for the very best fine-dining wedding catering or trying to do it yourself on a tight budget, there is no shortage of delicious meals to serve at your wedding. As long as you have enough variety and offer dairy- and gluten-free options and anything else your specific guests may require, and go for the food that you like, your menu will likely be a success.
What is the easiest food to cater to?
If you are looking for the easiest food to cater to. You could simply go for cold foods like salads, cold meats and so many other options like mini quiches and vol-au-vents which look wonderful, taste great, and can all be prepared beforehand without worrying about serving them hot.
Another idea is to go for a buffet-style dinner or brunch instead of individual plates. You can then easily put out trays full of foods to be kept hot as your guests serve themselves whatever they might fancy. This can seem a little less formal, though that can be a good thing depending on the wedding you wish to have. 
There are many unique weddings catering ideas that could suit you and are easy to pull off, including pizza stations, popcorn and dessert stations, and lots of delicious options based on what you prefer. Some choose to go for an ice cream bar or waffle station, while others will go for a BBQ-style meal with kebabs, burgers, or even a full hog roast. This can be a popular and fun choice, but again consider your guests and if this is the right choice for your wedding.
Having a make-your-own salad bar or a cheese station can make it really easy to cater, putting out the separate ingredients or types and letting your guests make themselves the kind of bowl or board they want at the same time. It can actually please people who would really like to have certain vegetables and not others while also making it easy to cater. A win-win. 
What is the most popular wedding food?
The most popular wedding food is up for debate depending on who you ask. Some might say it is undoubtedly the wedding cake, something well worth attending any wedding to both see and taste. From the dinner options, available beef tenderloin is a classic for a reason, with decades of guests enjoying its melt-in-the-mouth taste.
Canapes are another popular choice, serving up fun and newer offerings like mini burgers, mini fish, and chips – anything mini really! There are also plenty of elegant options including salmon mousse, shrimp cocktails, and an array of delicious crostini and tartlets with every conceivable filling. 
People love having the variety of canapes, with their size allowing you to sample more of each and also not be confined to a table talking to a small number of people, but moving around and mingling while they eat. Just remember it is imperative that you actually serve canapes that are small and easy to eat without cutlery otherwise it can get messy and irritating for your guests.
Conclusion 
There are plenty of options out there to help make your wedding food feel special and taste wonderful, so it is up to you to think about what would make you happy at your wedding. Consider how you would want to present your food, as a buffet, sit-down meal, or with canapes throughout or some mixture of the three. Ensure you have the right balance of meat, fish, and veggie, as well as meeting any dietary requirements, and make sure you serve plenty of food, there's nothing worse than running out halfway through and some guests going hungry.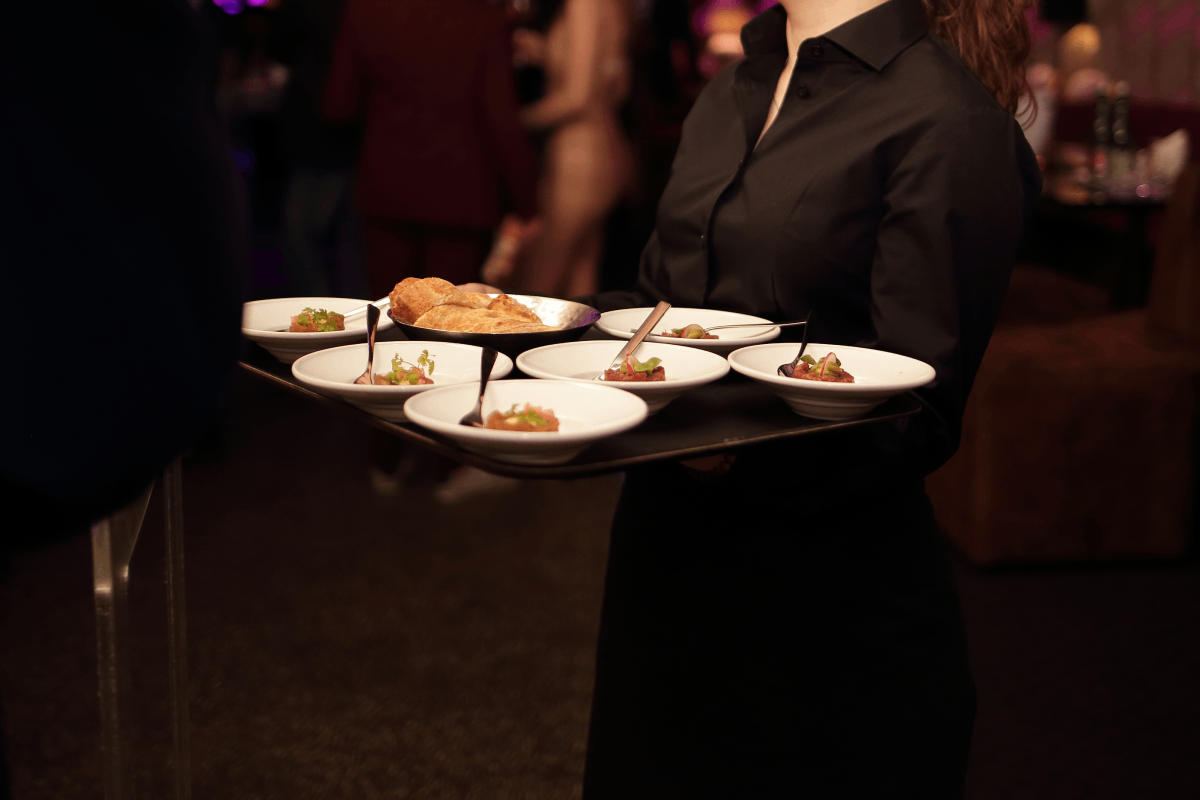 Once you have met all of these requirements, go traditional and elegant, or fun and unique – it really is your wedding and you can eat what you want to! From three-course dinners to a waffle station, the best food for your wedding is whatever you want it to be. So get planning and get ready for a wedding feast that will be the cherry on the top of the best day of your life.